Taylor Hicks
grooves Memphis and has taken it by storm! He arrived yesterday and visited Graceland. He also did an interview with Sirius Radio. You can listen to it here:
(capture by Gypsee @Tmo)
(picture credit: TMO)
Last night he attended the Liberty Bowl President's Gala at The Peabody Hotel where he received an award and performed for the audience. There were plenty of
Soul
Patrol
members at the event and everyone agreed that he rocked the house !
(photo credit EJ)
The Setlist
Taylor Hicks Concert
Liberty Bowl President's Gala
Memphis, TN
Peabody Hotel
December 28, 2007
Brian Less, Piano/Organ
Josh Smith, Guitar
Al (Boogie) Carty, Bass
Jeff Lopez, Sax
Felix Pollard, Drums
Rockin Pneumonia/Hey Pockey Way
Gonna Move
Give Tonight
Just To Feel That Way
My Friend
Naked in the Jungle
Medicated Goo
Heaven Knows
The Maze
The Runaround
Encore: Soul Thing
(courtesy of the Boogie Board Cellcert)
(picture credit: EJ)
Stay tuned!!! We will be posting live pictures and video of the Liberty Bowl as it happens!!! It starts at 4:30 EST!!!!!
They have arrived!
Halftime has started: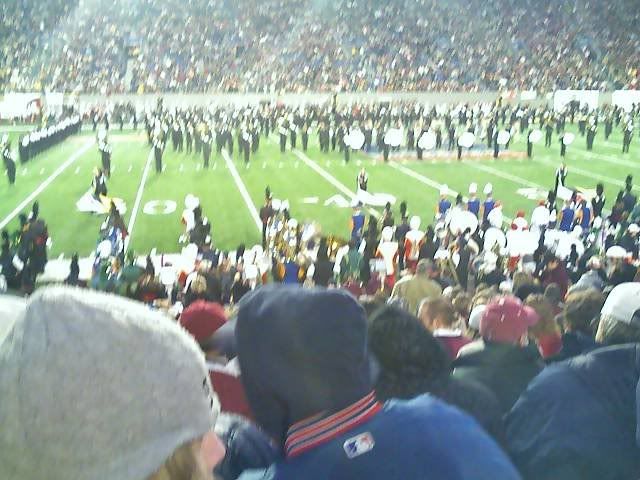 Videos have come back with no sound... they are on their way home with Digital Camera Video. Taylor sang 2 songs and in the Runaround quit singing to dance with the St. Jude's kids... Too Cute.
Here are some short clips:
We have Video!!!
(capture by WildRosegirl)
Taylor Hicks at The Liberty Bowl
from
cydter
on
Vimeo
.
Taylor Hicks at the Liberty Bowl - Heaven Knows
from
cydter
on
Vimeo
.
Leslie-- Liberty Bowl
from
Leslie Mozingo
on
Vimeo
.
Hey there, Soul Patrol!!! This is Leslie. Just thought I'd add a brief recap. I arrived at the Liberty Bowl shortly before the game started-- not because we were running late, we had started out for the game in plenty of time, but traffic was a real bear! The mood of the crowd was very festive and polite and we had absolutely no problems getting into the stadium.
We had no idea which gate to enter, so we decided to go into the closest one, and, lo and behold, our section was right there at the top of the gate! We had fantastic seats-- about the 35 yard line and 17 rows up from the bench of the Mississippi State team. We were sitting on the SEC side, but it appeared to us that most of the stadium WAS the SEC side!
Now, I come from a long line of Mississippi State alums on my dad's side of the family and I've been to my fair share of Bulldawg games, although it's been a while--apparently QUITE a while because I had completely forgotten how loud the fans can get with their cowbells. Cowbells? Yes-- and I don't know the entire history, but, suffice it to say that MSU started as an agricultural school, someone along the way incorporated a cowbell as a "cool" school symbol, and it's never left. Having said that, if you haven't been to an MSU game, then visualize yourself sitting smack dab in the middle of 60 thousand VERY vocal and diehard fans, covered in maroon, screaming their lungs out while waiving their cowbells-- some peoople even had one for each hand. Maybe I'm out of practice for these games, or maybe I'm getting old, but one thing is for certain: I found myself getting a horrible headache and sending a text to a friend pleading "NO MORE COWBELLS!!!" Sorry, Will Farrell, but, NO! we don't need anymore cowbells! LOL!
Halftime came and each school's band had a chance to perform briefly. Both schools, MSU and University of Central Florida, had huge bands and both did a great job. And then, the moment the Soul Patrol had waited for-- THE stage was being wheeled out onto stage and Taylor Hicks was being announced!!!
Taylor looked great in jeans and jacket. On stage with him were children who are patients at St. Jude Children's Research Hospital. No band, just Tay and the kids-- Oh, and some woman in a red ballgown-- I still haven't figured out who she was, but she looked pretty!! LOL!
Taylor started off with Heaven Knows. His voice sounded great and he gave us a lot of his trademark dancing and whirls. He went immediately into The Runaround with more dancing. Unfortunately, about halfway through the song, Taylor's mic went out completely. No advance warning, no advance staticky noises-- just OUT. Being the trooper that he is, Taylor seemed to take this in stride and just started dancing on the stage with the children from St. Jude's. It was really sweet and a good save to an otherwise major mess up!
With that, the half time show ended and Taylor left the stage only to get lost in the crowd.
My friends and I stayed around for a bit more of the game, but decided to leave only because we were all freezing and no amount of hot chocolate was going to warm us up.
I believe MSU wound up winning the game and if I listen real closely, I can still hear the clanging of 60 thousand cowbells in celebration!!! Congratulations to both teams for having a great year in football and congratulations to Taylor on this memorable weekend.