Give a smile to a child…
The Official Soul Patrol and The Taylor Hicks Community Birmingham Angel Tree
The bright lights of Christmas may be a little dim this year. We can change that…at least in a few Birmingham homes. This is a year when we really need to give from our hearts and provide a happy Christmas for another group of Birmingham area children this year. The 2008 Angel Tree is up and decorated. Angels are waiting for you to adopt them.
The OfficialSoulPatrol.com
and
The Taylor Hicks Community
have teamed up with the Birmingham Salvation Amy to operate their own online Angel Tree.
Last year, TheOfficialSoulPatrol.com and The Taylor Hicks Community provided a much- needed Christmas to 10 children in Taylor's home town with over $1,000 in donations and gifts.
The 2008 Angel Tree is like the ones you find in the mall each year. Presents of new toys and clothing are given to children of needy families in the Birmingham area. The Angel Tree will be done completely online, and the gifts you buy will be boxed up and mailed back to the Birmingham Salvation Army. Or, if you prefer, you can make a cash or credit card donation to the Angel Tree project via the link on the 2008 Angel Tree. ANY amount that you can give will be greatly appreciated. All donations will first be used for gifts for children on the Angel Tree. Any leftover funds will be used to adopt additional Angels from one of the other Birmingham Salvation Army's Angel Trees. A Birmingham area super shopper will buy and deliver the presents to the Salvation Army.
The last day that you can adopt an Angel or make a donation online is November 30, 2008. All gifts must be received by the Birmingham Salvation Army no later than December 5, 2008. Complete information about purchasing and mailing gifts for your Angel will be sent to you with the Angel Card when you adopt an Angel.
Please adopt a Birmingham Angel!

For more information, click here:
http://www.theofficialsoulpatrol.com/Angel_Tree.html
Know the real spirit and joy of the Holidays. As we all celebrate with our family and friends, we can also light up the faces of our Birmingham Angels who will have the fun and excitement of opening presents!
Give generously from your heart!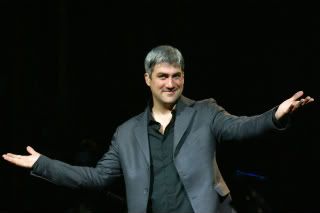 Happy Thanksgiving from Taylor's Angels!

At this time of the year, we are always reminded of the bountiful blessings received throughout the year. In our refection of this past year, we count each of you a true blessing and thank you for being a part of our mission- "Taying it Forward". You have given of yourselves and helped make a difference in the lives of others. Because of you, we can look to the months ahead and know that many more people who would not otherwise have the opportunity will enjoy the phenomenal talents of Taylor Hicks and his music.
As you have blessed us with your generosity, we sincerely hope that you and your family will have a "bountiful harvest" this Thanksgiving!
Tags:
Taylor Hicks
,
American Idol
,
Soul Patrol
,
Taylor's Angels