Meet Connie Leinicke—Taylor's Angel's Hero of the Month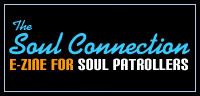 Two years ago, many of us, including myself, had probably never heard of an ezine—a magazine that is delivered to your email address. Now though, many among the
Soul Patrol
anxiously await their copy of The Soul Connection in their email box each month.
Over the past year and a half,
Connie Leinicke
has worked tirelessly to bring us
The Soul Connection
. Connie has put together not only a wonderful ezine, but a fabulous group of people who help her write articles and keep the publication fresh each month.
Not only is each issue full of information about what is going on with
Taylor Hicks
and his fanbase, but we have also learned a lot of information about other influential artists who have inspired Taylor Hicks, such as Ray Charles.
Because of Connie's dedication and allegiance to the Soul Connection, Taylor's Angels thought it only appropriate to make her our Hero of the Month. With everything that Connie has going on, we felt very fortunate to learn more about this amazing Soul Patroller when she sat down to answer a few questions:
TA:
Tell us about Connie!
Connie:
My husband and I own a marketing/advertising agency in the St. Louis, Missouri, metropolitan area. We have 3 beautiful daughters who also are Taylor fans (and receive The Soul Connection!). I have been a musician all my life. I sing and play four instruments. Keyboards are my specialty. I share Taylor's passion for music, for hearing and creating sounds. Music has always been my passion. My viewpoint? I choose to look at life from a positive perspective and enjoy celebrating all the good things life has to offer.
TA:
How much time does it take to put The Soul Connection together?
Connie
: A lot of planning and preparation goes into publishing a 14-20 page ezine each month. We begin planning our next issue immediately following publication of our current issue. Decisions must be made early each month regarding writing assignments. The last week of each month I take all of the gathered information and create the issue at my office computer after hours. Because this ezine is emailed, everything I include (photos, articles, graphics) must be email friendly and a small enough file size to deliver through cyberspace.
TA:
How many people help you?
Connie
: The Soul Connection is the voice of the Soul Patrol and Taylor's fans worldwide. We receive story ideas, photos, news, and input from fans all over the globe. However, our 4-person editorial board plans each issue and provides the guidance necessary to keep information relevant, current, interesting, and fun. We also have an extremely reliable and dedicated group of reporters/writers who are staunch Taylor fans and are willing to meet the necessary deadlines each month to give this gift to Taylor and his fanbase. We're very happy, too, to give a voice to the charitable organizations that have evolved from Taylor's fanbase.
TA
: Where did you come up with the idea?
Connie:
The idea for a Soul Patrol newsletter originated in the Soul Patrol Support Group from the AI5 message boards. Although I was not a member of that group, I decided to help the original editor create/publish the first issue because she was having health problems and I didn't want that group to be disappointed. And I'm still here 18 issues and 265 published pages later. From the outset I could see that this was not merely a newsletter. . .it was an electronic magazine (ezine) without advertising clutter. When the original editor bowed out shortly after the first issue, I began to include my own vision in the content.
TA
: What has been the most gratifying part of The Soul Connection?
Connie:
As a musician myself, the most gratifying part of this experience is highlighting Taylor's music and talent on a regular basis and learning more about his musicality. I am also having the time of my life meeting Taylor fans from all over the world who have the same interests as I do. I am grateful, too, that The Soul Connection reaches fans who are not necessarily internet users.
TA
: How do you come up with new concepts? Are there any new features of the newsletter you will be adding soon you can tell us about?
Connie
: All of our ideas start with Taylor. Since our two-fold mission is (1) to promote and support Taylor in his musical journey, and (2) to keep Taylor's fan base united, necessarily all of our ideas are measured against what they have to do with Taylor. From that point we work out the story angles and details. Sometimes it takes a few months before we can include a special feature. We project what Taylor's expected activities will be throughout the year. For example, he is busy writing songs for his new CD now, then he will rehearse it and go into the studio to record. We want our readers to understand these processes in the music industry, so we will focus on those areas in upcoming issues. Once Taylor's new tour begins, we will focus on topics surrounding that tour.
TA:
How many people receive The Soul Connection each month?
Connie
: Our current subscriber list is approximately 1,500. Many subscribers tell us that they forward each issue on to their friends. So our unofficial guesstimate is that approximately 2,000 people read The Soul Connection each month.
TA
: How did you become a Taylor Hicks Fan?
Connie
: I've been a fan since Taylor's Las Vegas audition. I had watched very few AI shows to that point. After Taylor's audition I told my family that HE was the real deal and should win the competition. That same night I googled his name, found his NPR interview from December 2005, and heard clips from Under the Radar.
TA:
How many concerts have you been to?
Connie
: Only 19. . .;p. . .I also attended the Kid One book event and the Regions Charity Classic golf tourney.
TA:
What was your most memorable concert experience?
Connie
: While every concert was memorable for me, my favorite memory is meeting Taylor only minutes before his first national solo tour concert in Jacksonville FL . . .he was very excited about the concert and so were all of his fans. . .it was a great moment for me to share his excitement and to personally wish him well before he went on stage.
TA:
What is your goal for The Soul Connection in 2008?
Connie
: In 2008 the editorial board envisions delving deeper into Taylor's musical influences and bringing an understanding of those influences as well as a more complete understanding of today's music industry to his fans. We are also looking into alternative delivery methods via the internet.
Thank you Connie for bringing us The Soul Connection and for taking the time to let us get to know you a little better!
Composed and published by Leslie Mozingo
Tags:
Taylor Hicks
,
American Idol
,
Soul Patrol
,
Taylor's Angels