Taylor Hicks garnered international fame not only with his voice but also with his unique dance style as he moved through the ranks of American Idol and ultimately brought home the title to end Season Five. With that same golden voice and funky dance moves, Taylor again wowed audiences during his 2007 national and international tours. Yet it was during Taylor's last official performance of 2007 that his exuberent dancing proved to be a monumental moment in the life of one young fan.
Taylor Hicks'
performance during halftime of the 2007 Liberty Bowl on December 29 was billed as the highlight of the event. True to style, Taylor wowed the crowd with his single "Heaven Knows" and "The Runaround". But mid-way through the performance his microphone suddenly went silent. Without a voice, Taylor's seasoned showmanship became apparent as he seemingly instinctively relied upon those dance moves to entertain the over 60,000 fans in attendance. On stage with Taylor were several children who had received medical care for life threatening illnesses from St. Jude's Hospital in Memphis, Tennessee. Taylor extended his hand to one of these children in an invitation to dance and help entertain the crowd. As fate would have it, the young man who "cut a rug" with Taylor that evening was a huge fan of
Taylor Hicks
and was also from Taylor's hometown of Birmingham, Alabama. To say that this child supported Taylor throughout his climb to fame would be an understatement. However, his illness had prevented him from actually seeing his hometown hero in a live performance. But at the Liberty Bowl that evening, this young man's dream was surpassed as TOGETHER he and Taylor gave a performance of a lifetime.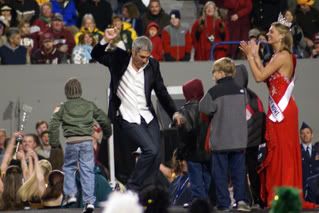 Taylor's Angels is priviledged to share with you the story of this courageous boy, his fight for life and his "journey just to dance with Taylor Hicks". His mother penned these words:
Life as we know it changed on July 28 , 2006 when the word "cancer" was associated with my 5 year old son, Evan. We had been explaining away the aches and pains, fatigue, and crankiness for a couple of weeks and had, finally, convinced our pediatrician that these symptoms were not just a result of anemia. That fateful day has molded the rest of our lives. Evan was diagnosed at Birmingham Children's Hospital with stage IV neuroblastoma, a cancer of the peripheral nervous system. Although this type of cancer is actually the third most common childhood cancer, it is the deadliest. The survival rate is 30%. That evening, we desperately searched for the best, the newest, the most extensive treatment program for our baby. We found St. Jude Children's Research Hospital in Memphis, Tennessee. With a recommendation from our pediatrician, we arrived at St. Jude less than 48 hours from diagnosis, ready to fight with everything we had. Evan's treatment plan consisted of a surgery to place a double Hickman catheter into his chest with which all chemotherapy would be administered and from which blood would be taken. This was followed by two rounds of low-dose chemo and nine rounds of high dose chemotherapy, most of which involved many nights in a hospital room. Evan also underwent a major surgery to remove his primary tumor in the abdominal area, which was unsuccessful due to the location of the tumor. After eight months of treatment, including countless medications, scans, blood transfusions, and shots to boost his white blood cell count, in spite of eight months away from our home and separated from our family, we discovered that Evan's cancer had not responded sufficiently to the drugs he had been given. Three more doses of high dose chemotherapies were administered only to see no change. We were told that, although Evan had remained stable and in spite of his clinical health, Evan was terminally ill. Any further treatments would only be to prolong his life. Although these words were devastating, I knew then and continue to
BELIEVE
that no one knows our future except God. When we arrived at St. Jude in 2006, our once vibrant, dashing little man could barely walk. He could not climb stairs. He could not get into my small car. In June, even though the results of his scans were unfavorable, and still today, Evan can run, jump, skip and, most importantly, "cut" quite "a rug"! Since July, Evan has been on a clinical trial involving a special drug that is only given once a week over the course of an hour on an outpatient basis. It does not make him sick or tired. His hair has completely grown back. He has put on weight and he feels great! We were able to move back home to Birmingham and have lived a relatively what I like to call a "new normal" life. We are only impeded, most of the time, one day a week. We find ourselves extremely blessed that we chose St. Jude to treat our child and we feel that it was the best decision we could have made. We consider the doctors, nurses, staff members, and other patient families our family. Although extensive, Evan's disease remains stable and we are trusting and
BELIEVING
in God's plan. We know that "all things work for good for those who love the Lord."
Prior to Evan's illness, our family watched American Idol religiously. By Season 5, Evan was old enough to understand what was going on and really got into the show. We were very excited to see Taylor Hicks, a Birmingham native, make it to Hollywood and were sold on his ingenuity and uniqueness from the beginning. We spent every week watching the show and rooting Taylor on. We were all very excited when he won!
A WORD ABOUT ST. JUDE AND HOW YOU CAN HELP:
St. Jude is unlike any other pediatric treatment and research facility anywhere. Discoveries made there have completely changed how the world treats children with cancer and other catastrophic diseases.
They are where some of today's most gifted researchers are able to do more science, more quickly. Where doctors across the world send their toughest cases and most vulnerable patients. Where no one pays for treatment beyond what is covered by insurance, and those without insurance are never asked to pay. They've built America's 3rd-largest health-care charity, with a model that keeps the costs down and the funds flowing, so the science never stops.
All patients accepted for treatment at St. Jude are treated without regard to the family's ability to pay.
Taylor's Angels wishes to unite with the Soul Patrol in donating to St. Jude's Hospital in Taylor's name. An account is being set up so that the Soul Patrol can donate. The link is :
Fans Care For St. Judes Kids
Taylor's name will appear within the next few days. Your donation will be greatly appreciated. Evan is proof of the help they provide!
Written by Tina (DidNotExpectThat)
Photos by Tina (DidNotExpectThat)