One of the Soul Patrol's favorite impromptu moments of Taylor Hicks occurred this past December when he danced with a little boy named Evan at the Liberty Bowl halftime show. Evan's mother was a guest blogger for us in January. She shared with us Evan's adoration of Taylor Hicks and his brave battle with cancer. You may click
here
to re-read her story.
In an effort to make Evan's story easier for the family to share with all of their friends and family, she began blogging. Evan's journey has been lovingly documented at http://www.caringbridge.org/visit/evanthomason.
In a recent blog, Evan's mother informs us that some of his markers have become elevated. Although this marker alone isn't cause for alarm, according to his doctors, the family has still gone to St. Jude's Children's Research Hospital for a few days of extra testing.
Please continue to keep Evan and his family in your prayers.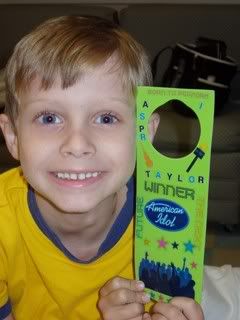 Thank you.
written and published by; Leslie Mozingo
Tags:
Taylor Hicks
,
American Idol
,
Soul Patrol
,
Taylor's Angels