Celebration 2008
Children's Miracle Network hospital, sponsor, and media partners and celebrities all converged in Orlando, Fla., last week to celebrate the miracles happening at 170 children's hospitals throughout the world. The annual Children's Miracle Network Celebration event brings together the organization's diverse partners to share best practices, celebrate achievements and honor the children who benefit from their tireless fund raising efforts.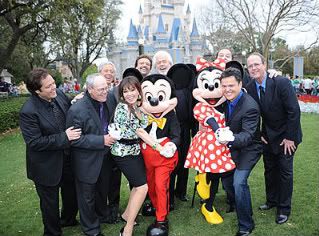 Children's Miracle Network co-founder Marie Osmond and the entire legendary Osmond family were in attendance to celebrate the organization's 25th anniversary and its expansion into the United Kingdom and Ireland. Since its founding in 1983, Children's Miracle Network has grown dramatically from a televised fund raiser in the Osmond's small studio to one of the world's leading children's charities helping 17 million kids each year
The Osmonds performed during the Children's Miracle Awards Friday, March 14 as part of their 50th Anniversary World Tour. The Children's Miracle Awards presented by Delta Air Lines is a special event that honors outstanding pediatric caregivers at Children's Miracle Network children's hospitals.
Celebration concluded with a special medal ceremony for children who were selected for their courage in overcoming medical obstacles and represent every state in the United States, every province in Canada, and new hospitals in Ireland and the United Kingdom. American Idol-winner
Taylor Hicks
and special performance by Cirque Dreams concluded the evening.
All Children's Miracle Network Celebration evening events are sponsored by long-time Children's Miracle Network supporters Foresters, Delta Air Lines and Wal-Mart Stores, Inc.
About Children's Miracle Network
:
Children's Miracle Network is the alliance of premier children's hospitals. Every year, Children's Miracle Network hospitals treat 17 million children for every disease and injury imaginable. Children's Miracle Network hospitals impact the lives of more children than any other children's organization in the world. Children's hospitals provide state-of-the-art care, life-saving research and preventative education for children 24 hours a day, 365 days a year. There is a Children's Miracle Network hospital dedicated to serving children in every community across the United States and Canada. These hospitals are committed to providing the best care for children when they need it.
Your support of
Children's Miracle Network
helps ensure that children have the specialized care they need and deserve.
Tags:
Taylor Hicks
,
American Idol
,
Soul Patrol
,
Taylor's Angels