As part of Taylor's Angels series highlighting various charities that are accomplishing great things this holiday season as a result of the inspiration of Taylor Hicks, we are proud to feature our first charity, Kid One Patrol of Soul (KOPS). KOPS is a very special group who is sponsoring several incredible and fun events that we are sure you will want to support! Remember that all proceeds go to Kid One Transport, one of Taylor's favorite charities located in his hometown of Birmingham, Alabama. And the best part is not only will you be helping countless children receive much needed medical care, you will also be eligible to win some awesome prizes! Taylor's Angels is proud to feature the KOPS "Booking it for Kid One", "Jolly Old St. Nick Hicks Picks" and "A Year Full of Heart and Soul" 2009 Taylor Hicks calendar! We hope that everyone will join together with Taylor and support the children of Alabama!
"Bookin' It For Kid One" Holiday Book Drive!

During the 2007 & 2008 holiday seasons, the Soul Patrol generously donated 3080 Beanie Babies for the children of Kid One Transport! The joy each baby brought to these wonderful children was priceless! The joy those of us who participated felt, was overwhelming! The feeling of making a difference in the lives of the children can never be measured.This year, Kid One has asked KOPS to organize a book drive with the Soul Patrol hoping to collect as many Children and Young Teen books as possible for the 2008 Holiday season. The books will be handed out to each of the children traveling to their medical appointments during the month of December.What a wonderful gift for the kids this year! The ages of the children range between 1 and 18, so please look for books older children would enjoy, as well!Visit your dollar stores or book stores and purchase as many books as you would like to donate to the kids this holiday season. Mail the books directly to Kid One and they will do the rest! Book donations need to be delivered to Kid One by November 22, 2008 so the children can receive their books starting December 1st!KOPS would like to thank those who participate in this project by holding a drawing for a wonderful gift package filled with some very unique Taylor Hicks items along with a one of a kind Soul Patrol necklace.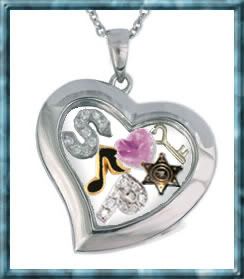 Purchase and mail at least two books to Kid One Transport for your first chance in the drawing. For every book you purchase thereafter, you will receive additional chances in the drawing!
Please mail your books to:
Kid One Transport
12 Office Park Circle, Suite 115
Birmingham, AL 35223
Attention: Tracee
After you have mailed your books, it is important that you email Karen at dkrice@sprintmail.com. Let her know the number of books you donated and your name will be entered in the drawing to be held December 8.
Your donation is tax deductible.
Join KOPS and Kid One and Play Jolly Old Saint Hicks Picks
Old Saint Hicks has a bag of Goodies for the Soul Patrol!
Play, Pick, Win!

Each player will be given the chance to pick one box which will secretly hold either 1, 2 or 3 chances in a dozen drawings with the opportunity to win one of the following:
· Autographed Harmonica
· Autographed Guitar Shaped Music Box
· Custom designed Soul Patrol Necklace
· Custom Ceramic Plate Painted by Taylor Hicks
· Autographed Alabama Beanie Baby
· Autographed Photo Collage of Taylor Hicks
· Autographed Copy of Heart Full of Soul (2 copies available)
· Autographed Taylor Hicks Bookmark (2 available)
· Framed Photo of Taylor Hicks – The Early Years
· Exclusive Demo Single Recorded by Taylor Hicks
Jolly Old St. Hicks knows his fans have been good this year and wants everyone to win something special. Everyone who chooses to support Kid One by playing will win something from his bag of Goodies, 12 lucky players will win top prizes! The more you play, the better your chances to win!
Let's Get Started!

1. Visit
http://www.kidonepatrolofsoul.com/
and click on Jolly Old St. Hicks photo at the top of the page.
2. Choose one of the three Gift Boxes – Click your box.
3. You will be taken to the KOPS Pay Pal page where you will make your payment of $5 for Kid One Transport.
4. After the payment process has been completed, you will be redirected to a Thank you page where you will learn how many times your name has been entered into the drawing.
5. Play as often as you like – each pick is only $5 and it all goes to help Kid One this Christmas. Each time you play, you will have the chance to win up to 3 tries for the top prizes.
Please email
dkrice@sprintmail.com
with any questions.
"A Year Full of Heart and Soul" 2009 Taylor Hicks Calendar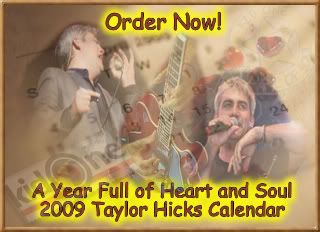 The 2006 American Idol winner, Taylor Hicks introduced his fans, the Soul Patrol, to the important service Kid One Transport provides for the children and expectant mothers of Alabama. The Soul Patrol gladly took on the cause to support Kid One and helped to create this wonderful calendar.This full color wall calendar opens to a perfectly sized 11" x 14" and is filled with photos of Taylor Hicks while at concerts, events and appearances. Soul Patrol members added their own touches with pictures of Meet and Greets with Taylor as well as Soul Patrol Buddy shots and birthdays to remember and celebrate.Order your calendars now. Quantities are limited and they will sell out fast!The cost is $20.00 per calendar plus a $2.50 shipping and handling fee per order. To order just click on the link and follow the instructions!
http://z11.invisionfree.com/KOPS/index.php

THANK YOU FOR SUPPORTING KID ONE TRANSPORT!


And please do not forget that by contributing to ANY of these wonderful charities we will be highlighting, you will receive a free copy of the DVD we are putting together for Taylor! If you have not sent in your Christmas greeting for Taylor, you still have time! The deadline is December 1st. Email your pictures, 30 second videos and greetings to : taylors_angels@yahoo.com.


Tags: Taylor Hicks, American Idol, Soul Patrol, Taylor's Angels