Taylor Hicks
spent over a year in Nashville, prior to appearing on American Idol, writing his music and waiting for that one big break to have his music heard and published. One day with no prospects in sight and when he felt that his chances for this happening had eluded him, he walked to the Ryman Auditorium in the early morning hours when the streets were still with only a few people stirring around.
Taylor Hicks
walked around the Ryman several times dreaming of one day playing at the Ryman Auditorium and sharing his music with the world. In some ways he probably thought that this
was only a dream
, but one dream that he hoped would one day come true. Little did he know what what was in store for him.
This is what one supporter/fan shared of that special moment when
Taylor Hicks'
dream of playing at the Ryman Auditorium came true.
Nashville, Tennessee is the "Country Musical Capital" of the world. Nashville is
also a very tough town, even for the best and the brightest. Living in Bakersfield, California has taught me a little about both titles. Bakersfield is known as Nashville-West. In the 1950s, when Nashville started adding flutes and violins to their over orchestrated hits, Bakersfield's musicians, like Buck Owens and Merle Haggard responded by pickin' the Fender Telecasters in the City's honkytonks. In my employment at the County Museum, I walk by sequined pants worn by Barbara Mandrell and double-neck Mosrite guitars each day. Country music is never far my thoughts and its history is literally around the corner from my desk.
In March 2007, I had a chance to visit Nashville as part of my Taylor Hicks seven-concert swing through the south. I called the trip, "The Grits and Hicks Tour 2007". Nashville, apart from Birmingham, was to be the highlight of the trip. I was not disappointed.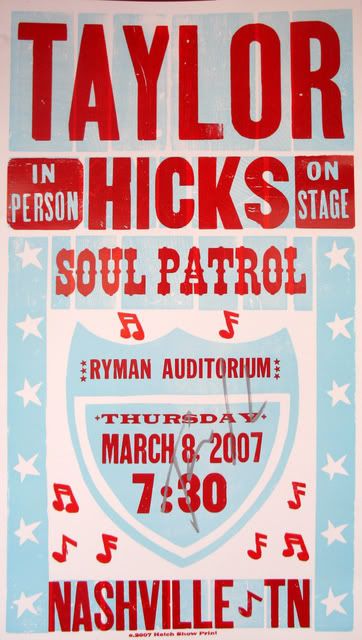 I arrived in Nashville after leaving Huntsville, Alabama. Huntsville, with its broad freeways and new construction, reminded me of Orange County, California. (Just a note about Huntsville, I really liked the town. During my visit, I saw street sweepers cleaning up the area's poorest neighborhoods. I give kudos to a town that does not give up on its poor.) With my rental car's GPS system, navigating the one-way streets in downtown Nashville was a snap. I was staying at the Marriot Courtyard because of its proximity to the Ryman. The bellman at the Marriot was gracious, but hesitated to give me the name of the closest sushi restaurant when asked. He said the owner of "Sam's Sushi Bar" had requested that the Courtyard not send over any guests. Wow, you know it's a tough town when a hole-in-the-wall sushi purveyor does not want out-of-towners leaving their soiled cash behind. (If you are ever in Nashville and want great inexpensive sushi, please visit Sam's at 200 Fourth Avenue North – tell him someone staying at the Courtyard across the street recommended his place!)
There were dozens of Soul Patrollers strolling the halls and hanging out in the lobby of the Courtyard. Once a bank, the Courtyard's lobby is beautiful. Its over stuffed couches and internet access made it a mecca for the SP member away from their DSL/lifeline connection. As we all scattered to various restaurants for dinner, I hooked up with one of my favorite SP members, RED. (Of course, her name isn't RED and only Miss Clairol knows if she really is RED, but for her privacy, I will call her RED here) RED and I headed down to Broadway for dinner; it is a major thoroughfare and was located down the hill and just passed the Ryman. A real southern lady and Vanderbilt graduate, RED knew Nashville. After good food and terrific conversation, we decided to troll Broadway for great country music.
In Amsterdam, women of the evening stand in storefront windows enticing passersby with their wares. Nashville has a similar marketing system. Small three and four piece combo bands, crowd into tiny storefront stages and perform with their backs to the pedestrians along Broadway and hopefully to a full bar of drinking patrons in front of them. RED and I checked out a few of the bands and ended up at Tootsie's Orchid Lounge. Probably the best known of the small clubs on Broadway, the band at Tootsie's was wonderful. With all of the schlock on the radio today, I am ALWAYS dumbfounded when I hear extraordinary talent in clubs that charge .25 cents to use the restroom. The band in Tootsie's was on fire and the middle-of-the-week crowd loved every hard jamming country minute. RED and I stood near the front and enjoyed the show on the stage. RED would tell you I was solicited by a Hottie Blonde that appeared entranced by the buttons on my blouse and by a Cowboy that suffered from manorexia. All I will say is that what happens at Tootsie's Orchid Lounge stays at Tootsie's Orchid Lounge.
After a near kidnapping by a gypsy cab and an attempt to visit the Bluebird Cafe, RED and I headed back to the Courtyard and talked until 4AM in the morning.
After waking up at the crack of 9AM, I dressed quickly and went exploring alone. All of the earnest hard working people of Nashville were scurrying to work with Starbucks and Blackberry's clutched in their gloved hands. With my own coffee in hand, I walked the few blocks to the Ryman and sat down across the street from the Mother Church of Country Music. Dwarfed by the large buildings that surround it, the Ryman looks out of place amongst the steel, glass, and concrete. There is a nice new visitor entrance out front, but it still seems incongruous with its surroundings. I noticed in the ally behind the Ryman there was a familiar Provost Bus parked and I decided it was time to take the Ryman Museum Tour.
The Ryman is part auditorium, part museum, and the sanctorum of country music. I heard half a dozen languages spoken as I waited to purchase my ticket for the Museum Tour. When I entered the auditorium, I noticed the Taylor Hicks' road crew had already set the stage with the band's amplifiers and instruments. The "Taylor Hicks" light on the curtain that appeared at the previous four shows I had attended had not yet been lit.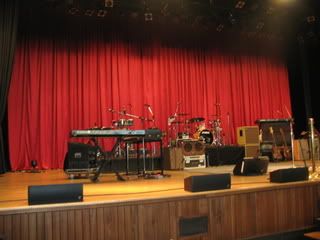 The Ryman building is much larger than the auditorium you have seen in videos. A docent does not guide the Museum Tour, so I was provided an opportunity to explore all parts of the facility on my own. While sitting in a pew in the balcony, they lit the "Taylor Hicks" sign on the curtain. I took a picture of it with my cell phone and sent it to a friend. It was posted on Gray Charles within minutes (Love Technology).
While touring the building and reading its interpretative exhibit panels, I noticed that a film crew was setting up in the balcony area. A tall gentleman that was organizing the setup asked if I was a Taylor Hicks fan. I said sure and he suggested that I wait nearby. Within, minutes Taylor joined the film crew, just a couple of feet from where I was standing. There were about a dozen of us up on the balcony. This is what my camera captured.
After the interview Taylor checked out the Ryman's stage area
After taking a few more pictures of the Ryman's interior, I headed to Sam's for sushi.
While the Ryman had its share of Soul Patrol in its pews that night, the majority of the audience was local. Men, women, and children that had sent text messages and dialed for their gray-haired blue-eyed soul singer during American Idol awaited his live performance with much chatting and anticipation. I had somehow been blessed and the TicketMaster gods had smiled on me and awarded me with a seat in a pew next to the stage. My view was super and the show was awesome. Loren lead the band in lock-step behind every move that Taylor made. Taylor worked each part of the stage.
After the show, lots of folks hung out around the buses. RED and I had made plans to have dinner at the same place as the previous evening, so I skedaddled out of the venue and crossed the street to the perch I found early in the morning and waited for RED. Besides the traffic immediately next to the venue, downtown was quiet. I was reminded how lonely large cities can be at night. Stripped of bustling daily commerce and lunchtime inhabitants, Nashville's downtown after 10PM during the middle of the week was very quiet. As I walked down to the restaurant on Broadway, I could image how difficult this town must be for people chasing their dreams. Singers that stick it out in places like Nashville are driven. My own aunt's experience reinforced Nashville's mythology as a town that can suck the very life out of a creative person. My aunt, that today pulls down a hefty six-figure salary, once lived in the restrooms in Lebanon State Park about 30 miles from Nashville for three winter months while looking for work in the Nashville area. As I pulled my coat tighter around me, I could understand the desperation and subsequent depression that someone must feel when they are doing everything they can possibly do to make their dreams come true, yet having little to no success in turning their dreams into reality. It's not about working hard enough or wanting it more than anything else; those two things and $4.35 will buy you a Venti White Mocha Frappuccino at Starbucks, but little else. That is the worst part of it, the seemingly lack of control over your own financial and creative future.
RED was a no show at dinner, so I took the time and began to plan a video on a cocktail napkin that would convey my gratitude to Mr. Hicks for sticking out the rough times in Nashville. I was very interested in doing something from the perspective of the stage. I wanted to record the time and moment when Mr. H returns to Nashville as a conquering hero. Written, it looks like hyperbole, but when my aunt returned to Nashville last year and was picked up by a limo at the airport, the ghosts of twenty years ago magically faded away and she no longer dreaded crossing the Mason-Dixon. I created the video below in hopes that it would serve as a reminder to Mr. Hicks that those ghosts are gone and his future his alone to determine.
I would like to thank RED, the Hottie Blonde, Sam the Sushi Nazi, and the Cowboy with manorexia for an absolutely fabulous visit to Nashville. I would like to thank Taylor Hicks for reminding each of us to believe in our dreams.
"Never give in. Never give in. Never, never, never, never--in nothing, great or small, large or petty--never give in, except to convictions of honor and good sense. Never yield to force. Never yield to the apparently overwhelming might of the enemy." Winston Churchill
Published by maryann1
Written by PaytheDevil
Tags:
Taylor Hicks
,
American Idol
,
Soul Patrol
,
Taylor's Angels