Taylor Hicks became the new American Idol in May 2006. On that same night, he performed a heartfelt rendition of the song Do I Make You Proud and recorded/ released it as a CD single shortly after that. Throughout the summer tour of American Idols LIVE, he sang this song at every performance and dedicated it to our troops, both overseas and at home. To both share his tribute and honor your commitment in service to our country, this CD single is for you. May you know in your hearts that your sacrifice has not been in vain and you always make us proud.


Those who have offered their lives for their country know that patriotism is not the fear of something, it is the love of something! – Adlai Stevenson

These words were penned on a card attached to Taylor Hicks' Do I Make You Proud CD and delivered to the soldiers at the Walter Reed Army Medical Center in Washington, DC in November, 2006. The most critically wounded received this inspirational gift to help them realize, even in their darkest moments, that their sacrifice had not been in vain. Totally inspired by Taylor's dedication to the troops and the Proud of our Troops Drive,
Alice Culbreth
embarked on a mission of love to honor their sacrifice in service to our country. Alice raised the money for the CD's through her church (who also helped prepare the packages for delivery) and Taylor's fan base, The Soul Patrol, and was able to deliver much more than a song to our country's bravest men and women. On this day in November, 2006, Alice delivered HOPE, and continued her ministry of love to those in need.
Since that time, Alice has continued to support
Taylor Hicks
in his efforts to give back to others. Supporting charities such as Kid One Patrol of Soul (KOPS), Kid One Transport and Proud of Our Troops Drive as well as numerous other charities that support children, youth and social justice, Alice continuously gives of her time and talents. She has been a special friend to Taylor's Angles, donating many tickets so that fans, underprivileged children or battered women could attend a
Taylor Hicks
concert and donating KOPS cookbooks to those that could not otherwise afford them. Alice sums up her reason for giving in this manner:
"I support all these charities for the same reason: to make positive impacts here will change the world and make it a better, safer, healthier place for all children and adults. It can be done…. one project, one phone call, one letter, one heart at a time."

We congratulate Alice Culbreth (better known as totustuus or totu on the fan sites) on her selection as Taylor's Angels Hero of the Month and urge you to read more about the extraordinary efforts of this wonderfully compassionate Taylor Hicks fan!


TA: Tell us a little about you personally.

Alice: I have one son, Justin who will turn 30 this year. He's married and has made me one happy "grammy" to my precious little Brittany, who will be turning nine years old very soon. I just turned 50 in 2007 and really enjoy being a young grandma. I live in southern Maryland, about 25 miles south of Washington, DC and have lived in or around the Nation's Capital my entire life. I am the oldest daughter in a family of three girls. I worked in "corporate America" for 18 years in operations management and systems development for a telecommunications firm. When company re-structuring relocated my department to the Midwest, I began to work full time as the youth minister at my church, taking a 2/3 cut in pay! Nine years and many graduate level courses in theology and Scripture later, I am currently the Director of Christian Formation at the same church, serving about 1200 families.

My hobbies include reading, writing and listening to music. I have a CD collection of close to 400 and have attended many concerts each year. Most recently, I saw Barry Manilow on February 9 and will see Bon Jovi on February 28. My musical tastes are eclectic and I have favorite artists in almost every genre. Taylor Hicks is the ONLY artist I have ever traveled long distances to see, all on the same tour! As far as TV is concerned, I'm a diehard Law and Order fan and never miss an episode of Lost. Also, I actually schedule my appointment/meeting calendar at work around American Idol! My current guilty pleasure is Rock of Love/Rock of Love 2 with Bret Michaels on VH1. Additionally, I love working on craft projects, my scrapbooks and writing cards to send to friends in my spare time.

TA: Why is charitable giving so important to you?

Alice: I try to live my life the way God wants me to. Part of that is recognizing the many blessings He's given me and to give to others in humble gratitude. Living what I profess to believe is important to me. As a song so eloquently puts it, He has no hands but ours. One of the two rings I wear bears an inscription of a favorite Scripture, 1 Corinthians 13:13: "So faith, hope, love remain these three; but the greatest of these is love." Charity IS love in action and the world certainly needs more love. As Mother Teresa once said, "We can do not great things, only small things with great love". So I am trying to do my part.

TA: What do you personally receive from your charitable giving efforts?

Alice: I know in my heart that it's in giving and sharing of our time, treasure and talents with others that we truly receive the greatest of God's blessings in our own lives. If my small sacrifice makes one person smile, puts food on a family's table, gets one child to much needed medical treatment, or simply allows them see God's love for them, then that's enough.

TA: What have you accomplished that has meant the most to you?

Alice: This is a tough question for me. I have never been good at recognizing my own accomplishments. I always say that my greatest accomplishment is the one I haven't yet achieved. I would have to say that what has meant the most to me is being able to come through many trials, bad relationships and horrible situations in my life with my spirit intact. I have been bruised and battered at times, but never broken. I guess you can say that I am a 'soul' survivor.

TA: If someone were to describe you, what would they say about you?

Alice: That might depend on who was offering the description! Those who know me well would say that I'm honest, patient, prayerful, and steadfast in my beliefs, loyal, generous and someone who can be trusted. They might also tell you that I can pierce their hearts with my silence, and tend to go into my "shell" when I've been wounded or misunderstood. I can be very moody at times, reflective at others and pensive when I don't feel secure in a situation. I also get my Irish up (as the saying goes) when I witness any kind of cruelty injustice or selfish behaviors that put others at risk. Also, some may say that I am quite passionate about defending the dignity of every human person even when it's not the popular or politically correct viewpoint.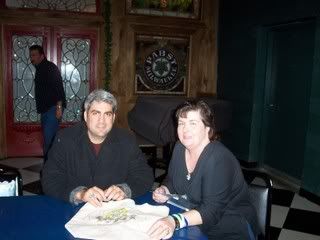 TA: How did you become a Taylor Hicks fan?

Alice: I enjoyed watching Taylor on American Idol and even voted for him every week! I picked Taylor to be in the top three along with Mandisa and Chris Daughtry, so one out of three ain't bad, right? I didn't become a true admirer of Taylor until after I saw the AI5 tour in July of 2006. I had never been to an AI concert, but I loved many in the top 10, so my friend gave me tickets for my birthday. When Taylor performed and dedicated Do I Make You Proud to the troops, it brought me to tears. As the mom of an Army veteran (Justin served at the beginning of the Iraqi conflict as a medic), it just touched my heart and soul in a profound way. It really was at that moment that I wanted to learn everything about Taylor Hicks, so I searched the internet where I found and joined The Official Soul Patrol fan site. That, for me, was the beginning of the Taylor journey!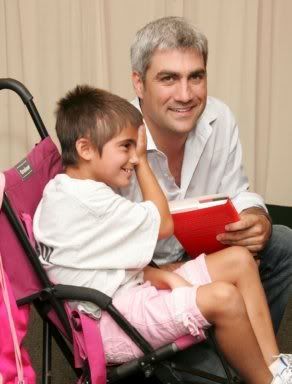 TA: What do you consider to be one of Taylor Hicks' most outstanding qualities that you find to be an inspiration?

Alice: Taylor Hicks has a beautiful heart. It shows in everything he does, from his respect for our country and those who serve it, to his commitment to and obvious love for children. You can see he's a witness to that in the charities and causes he supports, to be sure. I have witnessed this quality personally through his interactions with my granddaughter Brittany, who was able to twice meet him during the solo tour of 2007. Taylor took extra time with her to make it personal for her and even asked her questions, looked at her gift and said he would keep it forever, etc. In my experience, these actions are not things that can be faked so I believe it to be in Taylor's soul. Children and youth can see right through "phoniness" even with the best actors on the planet. Taylor captured Brittany's heart with his kindness and therefore he captured my unending gratitude and respect.

TA: To which charities do you find yourself personally drawn and why?

Alice: I love anything that concerns children and youth, such as Kid One Transport, St. Jude Children's Hospital, and Compassion International. Also very dear to my heart are charities that deal with social justice, such as SaveDarfur, ONE Campaign, and Habitat for Humanity. And obviously, I am quite passionate about anything related to supporting our service men and women. I support all these charities for the same reason: to make positive impacts here will change the world and make it a better, safer, healthier place for all children and adults. It can be done…. one project, one phone call, one letter, one heart at a time.

I would like to give some special recognition to my friends in KOPS. I have spent a good amount of time, talent and treasure supporting their efforts to help Kid One Transport in Alabama. Many of the projects we've taken on as a group go beyond the mere fundraising efforts you've read about and no doubt supported. The Beanie Babies Drive, gifts for moms on Mother's Day, the card drive for a young girl fighting for her life and adopting a soldier through Soldiers Angels….the list goes on. We've traveled together, both literally and figuratively for about a year and a half now. I'm honored to have been given the opportunity to work with KOPS to help Kid One meet its goals beyond maintaining current services, to where they can pursue their dream of expansion…so that no child ever suffers or dies because they have no transportation to an appointment or hospital. I have been blessed in so many ways through my association with this group. What a great tribute to the power of the Soul Patrol they are!


I am honored to have been chosen by Taylor's Angels as Hero of the Month. My prayer is that my story will inspire others to take a chance and reach out in love to those in need.

God bless!
Alice Culbreth

If you would like to learn more about Kid One Patrol The Soul, click here: KOPS
A Note from Taylor's Angels:

If you would like to nominate someone for our Hero of the Month Award, please email us at taylors_angels@yahoo.com and submit the name of a person in the Patrol Community who has done something special to help and/or given support to someone in need within the community. Monthly winners will be given a beautifully designed eternity bracelet and will also be featured in our Taylor's Angels blog.

Let us hear from you about the wonderful spirits that exist among Taylor Hicks fans!
Edited by Tina (DidNotExpectThat)