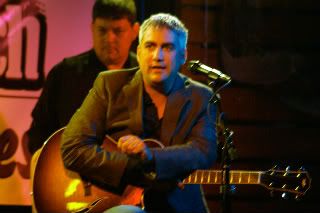 For over a year now, Taylor's Angels has brought you many stories of inspiration and hope that have been linked to
Taylor Hicks
in some way. Heartwarming stories about how Taylor has positively impacted the quality of life for many of us are abundant. Some share that they are enjoying a greater appreciation for music, but many run deeper and are more profound in their effects on the lives of others. Still other stories have highlighted Taylor's involvement in charitable giving and how those efforts have impacted communities across the country.
We thought it would be great to hear from the you, Taylor's dedicated fans, as to how Taylor has positively impacted your life, so we are sponsoring a contest and the winner will ultimately be decided by Taylor's fan base, the
Soul Patrol
!
In what areas have you received the most inspiration from Taylor and how has that inspiration affected your daily life? What have you seen or heard Taylor do that has affected you in a positive way? Have you been inspired to give back to your community as Taylor is doing by supporting charities across the country? Have you heard a heartwarming story from the Soul Patrol?
We encourage you to answer any of the questions above or simply share your special story with the rest of the Soul Patrol and become an inspiration to others, just as Taylor has been to us all. Please post your story in the comment section by Wednesday, May 21. After that time the comments will be cut off and we will post a poll where the Soul Patrol can vote for their favorite story. The person whose story gets the most votes wins a set of 5 Taylor Hicks inspired notecards. There are less than 10 sets in existence LaurenSilk gave one of the sets to Taylor in Myrtle Beach last year! As a bonus, one of the cards in this set is signed by Taylor!
If you have any questions or comments, please feel free to email us at taylors_angels@yahoo.com.
We encourage everyone to share their special story get the message out to everyone that one voice can change lives!
****************************************************************************
Grease is the word!
Taylor Hicks on the Today Show!
Tags:
Taylor Hicks
,
American Idol
,
Soul Patrol
,
Taylor's Angels